Dauin in the province of Negros Oriental provides tourists with exceptional dive sites. Most of them are located 5 – 10 minutes away from the Amontillado Beach & Dive Resort. In general, they are located in front of the beach and can be easily reached.
Dauin boasts of several marine sanctuaries. They are home to an amazing array of fish species, some of them are quite rare. Dauin is also home to the world famous "The Pier", which is more famous for its rich macro life. There are other excellent diving sites, which still remains untapped. One of them is the Masaplod Marine Sanctuary.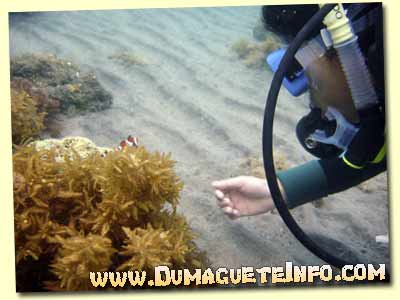 At 5 – 22 meters deep, the Masaplod Marine Sanctuary is the abode of more than a thousand species of tropical fish so much so that divers would hardly miss them. New divers will be left in awe by the amount as well as kind of fishes that thrive in this sanctuary. Even experienced divers will have an amazing experience viewing schools of fish wandering in the cool waters of the Masaplod Marine Sanctuary.
Masaplod Marine Sanctuary is home to different varieties of fish. The common species are blue spotted stingrays, red snappers, scorpion fishes, peacock groupers, sweet lips, and bat fishes. Occasionally, there are fusiliers and jacks. The Masaplod Marine Sanctuary provides an amazing sight of nudibranches as well. If that's not enough, moray eels, mantis shrimps, and frog fishes will definitely catch the attention of divers. Likewise, you will be amazed at the crab-eye gobies found at this fantastic dive site.
The Masaplod Marine Sanctuary is divided into two sections namely Masaplod North and Masaplod South. The northern section of the sanctuary is home to different varieties of fish. Divers will be treated to the sight of double ended pipefish, seahorses, blue spotted stingrays, yellowtail snappers, large mangrove snappers, and various kinds of nudibranches,
In addition, scorpion fishes, porcupine puffer fish, adult and juvenile sweetlips, batfish, ringed pipefish, moray eels, travellies, and other varieties will keep divers occupied. Not to mention the huge turtles, sea snakes, mantis shrimps, thorny cow fish, mantis shrimps, stargazers, harlequin ghost pipefish, and large barracudas. The good thing about this is that these varieties of fish will let divers swim along with them and sometimes even touch them.
On the other hand, Masaplod South provides divers with an alternative dive site. The area abounds with beautiful coral reefs and similar kinds of fishes found in Masaplod North. This dive site is so vibrant that one will not be satisfied with just a single dive.
A trip to the Masaplod Marine Sanctuary will definitely be an exciting and worthwhile experience to divers.