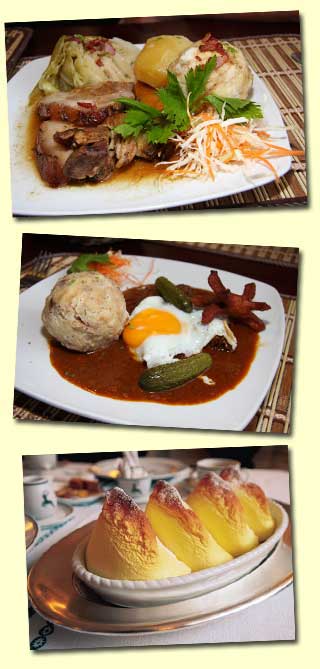 A Highlight of Dumaguetes Restaurant scene is Edelweiss, an Austrian Pub and Restaurant. Edelweiss is located directly at the road to Valencia in  lower Bacagay at the Apartment-complex of Dumaguete Springs, opposite of Hypermart.
Edelweiss is a cozy high class Restaurant, serving a large variety of Austrian and International cuisine as well as a whole range of Filipino dishes.
Manager Marlou, and the experienced staff of Edelweiss welcomes you in their cozy restaurant with the unique warm Austrian charm to introduce you to the mouthwatering dishes of their home country like Wiener Schnitzel, Schweinebraten or Käse Spätzle.
The kitchen-staff is managed and trained by international chefs, who work with them frequently ensure, that you won't forget your stay at Edelweiss. The Restaurant offers also imported Steaks, international wines and a selection of imported beer.
Edelweiss opens at 3:00 pm and is open until 11:00pm for snacks, dinner or just a drink with friends at the bar. The restaurant can host up to 60 guests, special arrangements for meetings, celebrations and events are welcome.
Our Team is trained on European Standard and happy to cook for you.
Don't miss out on the daily changing Specials
Austrian food guide :
Schweinebraten is propably the most poular Sunday meal in Austria and southern parts of Germany. It is an austrian style roasted pork and can be served with braised cabbage or sauerkraut, dumplings or spatzle. The Schweinebraten tastes even better with fine draft-beer or imported pilsen .
While goulash originated in Hungary, Vienna made it it's own, the Fiaker Goulash. Dating back to the Austro-Hungarian Monarchy, goulash became a staple of Austrian and particularly Viennese cuisine and can be found in any gasthaus throughout Austria. The secret to get this beautiful dark color is to saute the onions until very dark before adding the meat. Fiaker Gulasch is served with bread dumplings called "Semmelknodel" and garnished with egg and fresh pickles as.
Salzburger Nockerl are the most famous and legendary dessert of Austria. It is said that the "Nockerl" were invented by Salome Alt, the concubine of Salzburg's Prince Archbishop Wolf Dietrich von Raintenau in the early 17th century. They are quite difficult to make (or easy to mess up) and supposed to resemble the three mountains of Salzburg, probably Kapuzinerberg, Mönchsberg and Gaisberg.
However, Edelweiss implemented this awsome dish in Dumaguete and even originally thought to be a dessert, Salzburger Nockerl are also a delight as a main-course or in the afternoon with coffee and tea.
Live-Music with changing Artists.
Enjoy the relaxed atmosphere at Edelweiss and the great performance of easy listening music. Each weekend are several and changing Artists starting from7:00 to 10:00 pm with great folk music. Feel free to request songs or join them to play together a few songs. The perfect surrounding to start the Saturday evening with great music, good food and cool drinks.
Live Sports Events.
Edelweiss is famous meeting point for Expats, Dumaguetenios and Tourists gather together for the live-broadcast of big sports-events like Boxing, Basketball and Formula One.Four big flat-screen TV's ensure that you don't miss a scene.