Lechon In Dumaguete
The world famous Lechon Baboy (the pig on a spit) is an important part of any celebration and often the centerpiece of a party spread. Phil-Pork Inc. specializes in preparing this special feast.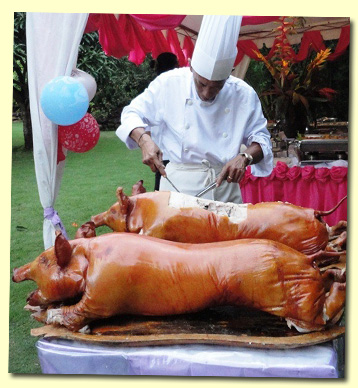 In the world of cuisine, the Philippines stands out as having a very diverse and unique set of culinary delights which distinguishes themselves as a great place for food lovers everywhere. One of the staple ingredients for many Filipino recipes is pork.
With their headquarters located on Molave Street, Dumaguete City, they take special pride in their connection to the community and providing the region with the highest quality product possible.
What makes Lechon in Dumaguete different is the realization that respect and care for the animal is of paramount importance to the quality of the product. By treating the Lechon humanely and not putting the animal through the stress of cruel slaughtering processes, the quality of meat is indeed improved.
Add to that, each pig is inspected prior to and after the slaughter by the Dumaguete City Veterinarian's Office and CERTIFIED "Healthy and Safe for Consumption".  Their slaughter facilities are government approved and regularly inspected to ensure your lechon is processed in a sanitary environment for the safety of you, your family, friends and guests.
Lechon Baboy – Taste the Difference
All of the pigs used are euthanized and slaughtered in accordance with guidelines published by the Philippine Department of Agriculture and meet or exceed the requirements of the United States Department of Agriculture (USDA). You will taste the difference in the meat.

Lechon Baboy in Dumaguete
Phil Pork's office-store in Daro, close to the Sidlakan village, has everyday fresh roasted Lechon Baboy for you to pick up. The company delivers for a small fee from Bindoy in the north to Zamboanguita, south of Dumaguete.
For ordering a whole Lechon Baboy 15 days in advanced, one gets an additional discount of 200 PHP. One can order a whole Lechon Baboy or by the Kilo.
Gift-certificates are also availabe and surely a welcome present as Lechon Baboy is certainly one of the most beloved dishes throughout the Philippines.
Many times a whole Lechon Baboy is just too much. When you need just a few Kilo, drop by their office and make a reservation of your Lechon for the day and time you need it and it will be ready for pick up.
Lechon Baboy Delivery Service to Manila and Cebu
Although Phil-Pork Inc. are very proud of their local connections, they are located only 10 minutes from the Dumaguete airport, so they are able to supply their product to other areas of the Philippines reliably and quickly. The local airport has multiple daily flights from Dumaguete to Manila and Cebu.
Your Lechon will be planned for completion an hour before flight time, drained, wrapped, packaged and delivered to the airport, Just-In-Time for departure. You can be assured that your lechon will arrive crispy and fresh.
Flores Avenue, Dumaguete,
Negros Oriental
, Central
Visayas
, Philippines, 9.3162216, 123.31156080000005