Because of its pristine white beaches and awesome marine reservoir, the island of Siquijor has consistently drawn in guests far and wide. The demand for hotels and inns that were conveniently situated at the nearby beaches became an uprising need hence a string of beach resorts mushroomed all over Siquijor island.
Coco Grove Beach Resort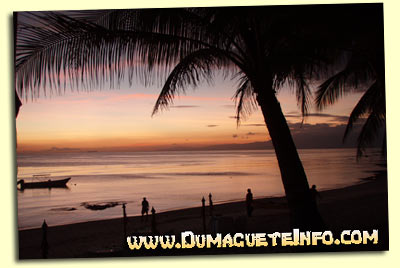 Fifteen minutes away from the village of San Juan, a rural getaway to the southwest, is Coco Grove Beach Resort. All of 2.5 hectares, this resort is an ideal place for relaxing, swimming, snorkeling and virtually any other activity under the sun. Directly in front of the resort is a strip of fine white sand beach where you can bask under tropical palm trees.
Coco Grove Beach Resort has a total of 25 cozy and charming native bungalows, all spacious and graciously laid out with its own private veranda, air condition, a spic marble bathroom, hot and cold shower and a mini bar stocked with beverages. These cottages are built in the midst of tropical greenery and natural landscaping.
There are two fresh water swimming pools for the guests, one which is right in the middle of palm trees for a breezy respite and the other, a much bigger one complete with a pool bar and always with a friendly bartender who is always ready to serve. This pool is also often used for introductory dive courses and training.
For gastric delights, one can opt to either wine or dine al fresco while grabbing a tan or gazing at the stars at the poolside or beach.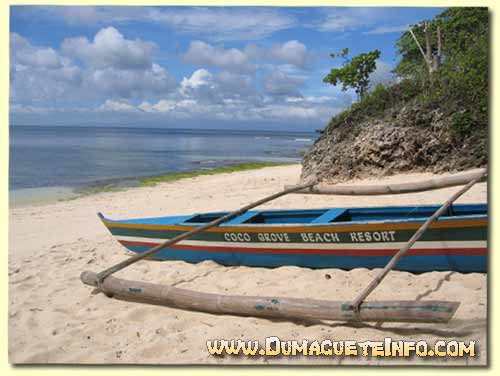 The restaurant at Coco Grove Beach Resort provides a wide selection of European and Filipino Cuisine that is sure to satisfy. Another wonderful treat is a moonlight serenade by the local in house singers who can belt out unforgettable Filipino folk songs or enchanting Spanish melodies.
On some nights when if you get lucky, the Siquijor Kultura Dance Troupe will delight guests with a special showcase of Philippine folk dances while the guests enjoy a sumptuous buffet dinner of fresh seafood and select Filipino dishes. Special occasions always call for a splendid display of fireworks under a peaceful Siquijor sky.
Aside from the two freshwater pools, guests are free to use the available sports facilities such as the billiards, darts, volleyball, and table tennis. For boating needs, one can rent a speed or pump boat and a dinghy. An in-house dive shop called the Sea Explorers also teaches and trains while other island activities like mountain climbing and sightseeing can be done via a resort organized tour. For business meetings, a function room that can hold up to 30 persons is available for use with basic technology (audio visual equipment and telephone/fax).
Contact Coco Grove Beach Resort:
Mary Joy B. Dayot (Manager)
Tubod, San Juan, Siquijor
(35) 481-5008 / Fax (035) 481-5006
cocogrov@glinesnx.com.ph