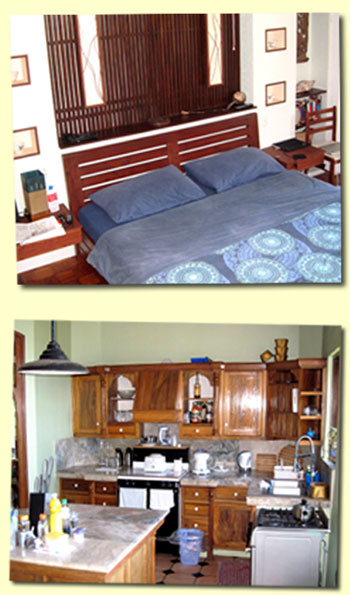 The Guesthouse Villa Al Mar – about 18 kilometers south of Dumaguete- is a wonderful place for travelers who want an upscale accommodation to a very affordable price.
Located directly at beach with the Marine Sanctuary of Masaplod 10 steps away, travelers will find the perfect home away from home setting new standards for guesthouses around Dumaguete and Negros Oriental.
The Guesthouse Villa Al Mar is a beautiful building in a lush tropical garden directly at the beach facing Apo Island.
Designed as a private luxury residence, the four rooms exceed the expectations of their guests. The modern interior of the guestrooms are all custom designed with air condition, ceiling fan, Wi-Fi internet connection and cable TV.
Each room has a spacious King Size Bed and an own bathroom with hot and cold water. The price for the rooms in the Guesthouse Villa Al Mar ranges from 1,300 Peso to 2000 Peso per night and includes breakfast as well as fresh towels, room cleaning, laundry service and usage of the modern kitchen.
The German managed Guesthouse has an exclusive high end interior and the service of the Guesthouse Team keeps up with that standard. No matter if you want a private dive-trip to  Apo Island or rent your own vehicle to explore the Island on two or four wheels, the team of Villa al Mar is always there to assist you.
The lush tropical Garden Villa Al Mar direct at the beach gives you the best options to relax and refill with energy.
From the Guesthouse it is only a short distance to Malatapay where you can visit an original local market each Wednesday. Malatapay is also the gate to Apo Island.
The mountainous land in Negros Oriental invites you for some trekking and hiking. Mountain Lakes and Waterfalls are just a short distance away. Villa Al Mar offers air and seaport pick-up as well as motorbike and car rental.
Local Attractions:
 Marine Sanctuary of Masaplod: The Marine Sanctuary is accessible through private gate of the property in immediate vicinity at the beachfront. Nudibranches, colorful tropical reeffish, sea-turtle and reef ideal for swimming and snorkeling and accessible within 35m of the shoreline.
Malatpay Market: From the Guesthouse it is only a five minute drive to Malatapay where you can visit an original local market each Wednesday. Malatapay is also the gate to Apo Island.
Twin Hot Springs Masaplod Sur: A natural spring boasting 68 degrees hot water rich in sulfides renown for their positive effect on the cardiologic system as well as their skin enhancing effects.
On request Villa Del Mar offers:
pick-up from Dumaguete as well as airport and ferry pick-up or whatever requirements suiting you.
car and motorbike rental allowing a choice of a wide range of scooters and state of the art BMW motorcycles.
individualized diving arrangements providing you with the best known local diving instructors giving guidance to nearby diving attractions ranging from a simple first time experience to fun dive to and PADI courses up to Dive Master level.
Contact:
Guesthouse Villa Al Mar
Sea Dream Drive
Masaplod Sur – Dauin
Negros Oriental
Landline: (+63) 035 425 2079
Email: jhoy@bmdasia.net