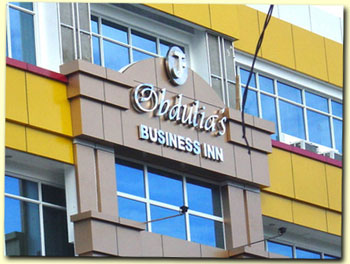 Obdulia's Business Inn is a comfortable business Hotels in the heart of Dumaguete City. A home with direct access to the city's commercial district with all modern facilities a traveller or businessmen needs.
Obdulia's Business Inn is named in the honor of a mother whose legacy was to provide a home for travelers away from home. The Hotel in Dumaguete is a continuation of this vision and provides a place to stay for those who have affairs in the city.
Obdulia's meets the demands of Dumaguete City's growing tourism and business industry. it is part of the service arm and Negros Island linkage to the philippine Islands and the rest of the world.
The Hotel is located at the corner of Dumaguetes business district besides Banko De Oro in Perdices Street, corner Colon Pinili Street next to the Cathedral and Quezon Park. Shopping, Business and Entertainment is just a short walk away.
The Hotel has 21 rooms in different categories:
Obdulia's Business Inn room rates
| | | |
| --- | --- | --- |
| Twin Standard | P | 899.00 |
| Twin De Luxe | P | 999.00 |
| Matrimonial | P | 1,099.00 |
| Matrimonial Deluxe | P | 1,199.00 |
| Suite ( Ref, hot and cold drinking water) | P | 1,899.00 |
| (extra Bed) | P | 200.00 |
All rooms are spacious and the warm, friendly environment makes you feel at home. An elevator makes it easy for older guests to enter the upper floors.

Rosalio's Restaurant
The Restaurant of Obdulia's Business Inn at the second floor offers international cuisine as well as local delights. With 8 LCD TV-screens and a well equipped Bar you can start the evening in a relaxed environment while overviewing the Quezon-Park and watching the latest sports-events live on TV.
Obdulia's Business Inn offers international standard for their guests which includes:
Cable-TV
WI-FI capability
PABX telephone system
Elevator
Stand by Generator

The basement of the JFT Building, where Obdulias is located, also hosts several shops like a travel office, pharmacy, a boutique and accessory-shop or a ticketing office. All this ameneties within the building enhanceing the comfort and accessibility of a travellers stay.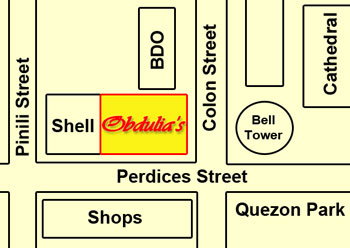 Obdulia's Business Inn
Gov. Perdices Street, Cor. Pinili and Colon Sts.
Dumaguete City, Negros Oriental
Philippines, 6200