Balicasag is an island located off the south of Panglao Island in Bohol Province. With a total land area of 25 hectares, 1.5 hectares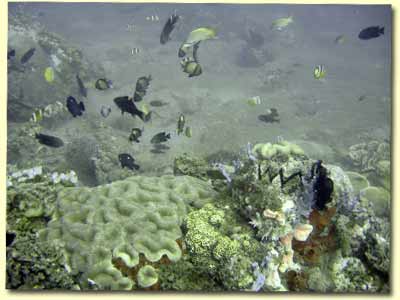 has been transformed into a beach dive resort. Balicasag Island is all you would imagine a tropical island to be: vast deserted white sand beaches, stately palm trees scattered all around, flowering bougainvilleas adding vivid colors to the never ending blue seas and skies. From scuba diving to deep sea diving, Balicasag is a haven for all divers and beach bums.
Some of the best diving sites are located around Balicasag Island. Its crystal clear waters provide a window to the bounty of corals and aquatic animals in the area. On the south portion of Balicasag is a protected marine reserve reaching up to 400 meters of ocean space. This sanctuary has a steep vertical wall of hard and soft corals and generally has strong underwater currents. During the months of December and January, some hammerhead sharks and great whale sharks can be spotted. In the dives, a school of jackfish may accompany you while groupers unhurriedly swim down below.
Marine Sanctuary
Aside from the sanctuary are several other dive spots that are well worth taking a trip to. The Black Forest is a dive drop off where black coral bushes abound. Though these corals are not exactly black but actually ranges from light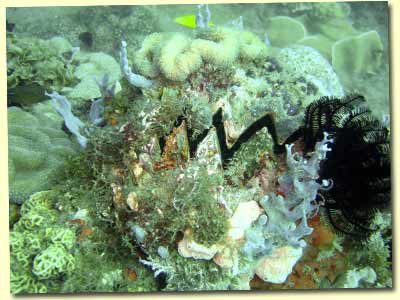 green to yellow in color, the remarkable abundance of these corals have earned the area the Black Forest moniker. There is a sole Napoleon Wrasse who has taken residence in this zone but aside from that, some mackerels and barracudas are also common passers by.
Heaven is another dive spot that is also characterized by a steep wall and is just ideal for drift dives. It has an unusual cathedral cove where beautiful coral formations of various types can be observed. Sea turtles are a common sight in this area. Sometimes there could be sharks and large schools of fishes like the gentle barracudas that swim through.
Balicasag Island is an excellent diving destination. There is one beach resort aptly named Balicasag Island Dive Resort that offers world class accommodations (with 20 native cottages lined up on the beach) and professional diving classes and instructions. There are organized dive tours, whale and dolphin watching activities that can be availed of at the resort. However one can also take a day trip to the island coming from Bohol (which only takes 30 minutes) or from the other neighboring islands.