The year 1990 brought about the beginnings of Kiwi Dive Resort, a specialty dive resort located in the beautiful island of Siquijor southeast of Cebu and in close proximity to its neighbouring islands of Negros and Bohol.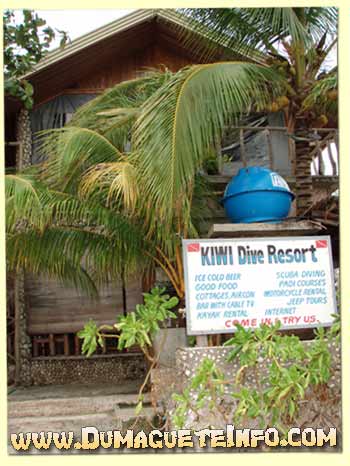 The easiest way to get to Siquijor island from Manila is by taking a flight to Dumaguete and then from Dumaguete, a short boat ride to the island. Tricycles and jeepneys abound at the Larena, Siquijor pier and they can be commissioned to bring one to the Kiwi Dive Resort.
Kiwi Dive Resort is relatively a small resort, known best for its world class diving facilities and instructions. The resort accommodations are very simple yet in its simplicity one can truly experience the peaceful and laid back island life offering just a little over the bare necessities making it the ideal getaway for serious diving enthusiasts who value adventure and experience.
Traditional Filipino native cottages dot the resort's expanse. A large cottage that can fit up to four people is available with a separate toilet and bath and an electric fan plus cooking amenities such as a stove and a refrigerator. There are three regular cottages for a double occupancy, still with its own separate toilet and bath, electric fan plus complementary coffee and tea.
A little cottage for honeymooners can be found on an elevated potion of the resort – just perfect for couples who might want extra privacy. Still for the budget conscious, Kiwi Diver resort also has cheap dormitory type accommodations for an individual rate of just Php200.00.
The dormitory cottage can hold up to eight people, has three toilet and bathroom amenities, and an individual private safety box for safekeeping of valuables and important documents such as passports and the like.
A full service restaurant serving delectable Filipino and European dishes is also a plus for this resort. Close to the restaurant is a tiny mini library that holds books, magazines, travel information, newspaper and other worthwhile reading materials that is available for all guests to enjoy. The newest addition is a charming little native bar that concocts many tropical drinks as well as always has a cold beer on hand.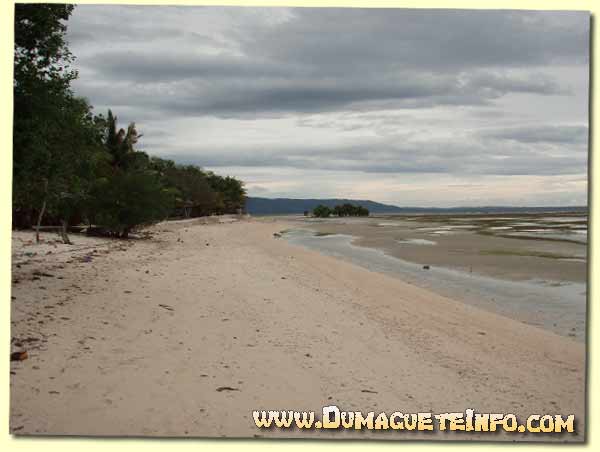 A visit to the Kiwi Dive resort is always a fascinating experience because here you can be sure of peace and quiet, of being close to the sea and the sand and of being acquainted to the locals and their simple lifestyles.
Kiwi Dive Resort
Bruce & Marithes
Sandugan Beach, Larena, 6226 Siquijor
(63) (35) 424-0534 / 0912-405-0956
kiwi@fil.net
www.kiwidiveresort.com